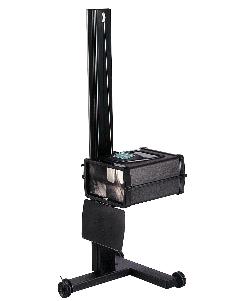 Item shown may not be actual product.
Product and price information are subject to change without notice.
---
Discontinued
Superseded to
AMA82005
Vision 100 Headlamp Aimer
---
Description
Headlamp Aimer

Features
Meets SAE J-600 standard
Will accurately aim all North American lamps, standard or aerodynamic, large or small, with or without aiming pads, and even fog lights
Easy to use:
1. Turn on unit
2. Align the aimer to the vehicle
3. Align the headlamp to the aimer
4. Aim the lamp
Completely portable - uses rechargeable Ni-Cad batteries
Viewing port - lets the operator see the lamp patterns
Floor slope adjustments - provides a way to determine and compensate for floor slope
Track included - lets operator move from side to side with ease

Warranty

One year on aimer. 90 day limited on accessories.