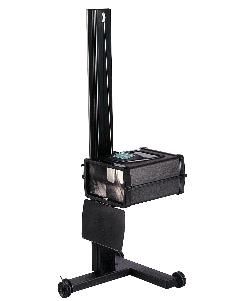 Item shown may not be actual product.
Product and price information are subject to change without notice.
---
$2,629.80
*
*log in for dealer pricing
Vision 100 Headlamp Aimer
---
Description
The Hoppy Vision 100 Photometric Headlight Aimer has received the prestigious Innovation Tools Award sponsored by Professional Tool and Equipment News. It was selected by a panel of shop owners and technicians all of whom are Certified Master Technicians. The criteria for the selection include uniqueness, improvement over existing products, time saving ability and cost.
The Hoppy Vision 100 Photometric Headlamp Aimer is the result of a concentrated effort by Hoppy to develop a state of the art photometric aimer that is affordable, easy to use and will aim all D.O.T approved headlamps
The Vision 100 is approved for use in all states and Provinces. It is also approved for all state Inspection programs including Maryland and Virginia.

Features
Meets SAE J-600 standard
Will accurately aim all North American lamps, standard or aerodynamic, large or small, with or without aiming pads, and even fog lights
Easy to use:
1. Turn on unit
2. Align the aimer to the vehicle
3. Align the headlamp to the aimer
4. Aim the lamp
Completely portable - uses rechargeable Ni-Cad batteries
Viewing port - lets the operator see the lamp patterns
Floor slope adjustments - provides a way to determine and compensate for floor slope
Track included - lets operator move from side to side with ease
LCD digital display
Front center uses photo diodes to accurately locate the the optical center of lamp
Accessories
AMA82057 Dust Cover
AMA482009 Laser Target 100 Pad
AMA482068 Owner Manual Vision 100
AMA482056 Alignment Track
AMA482058 Charger Vision 100
AMA482082 Floor Slope Adjuster

Warranty

One year on aimer. 90 day limited on accessories.