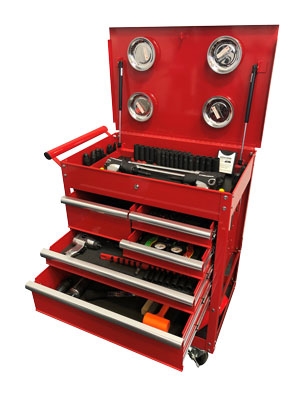 Item shown may not be actual product.
Product and price information are subject to change without notice.
---
$4,204.44
*
*log in for dealer pricing
Battery Impact Value Kit with Cart
---
Description
This comprehensive TXM Tool Kit with cordless impact wrenches meets the Toyota Express Maintenance Basic Maintenance tool requirements and contains the tools needed by a 2 technician team to perform basic Express Maintenance operations on Toyota vehicles. It offers a selection of hand tools supplied mostly by JS Products.
Includes
Air Chuck with Gauge (1)
Blow Nozzle for Air Hose (1)
Brake Pad "Go/No Go" Gauge (2)
Breaker Bar 1/2" Drive, 24" (1)
Combination Wrench - 10 mm, 12 mm, 14 mm, 17 mm - 6 pt (1 ea.)
Coolant Hydrometer (with long hose) (1)
Digital Air (Tire) Pressure Gauge (Dial) (2)
Drive Socket, Coated 1/2" Drive - 19 mm, 21 mm, 22 mm (2 ea.)
Extension 1/2" Drive, 15" (1)
Extension 1/2" Drive, 5" (1)
Extension Set, 3/8" Drive - 1.75, 3, 6, 8" L, 4 pc (1)
Fender Cover (Magnetic) (2)
Flashlight, Ultra-Bright 21 LED (3AAA) (2)
Funnels - 2 qt, 6 qt with Screen (1 ea.)
Grease Gun, Small with Hose (1)
Hammer, Dead Blow 32 oz (1)
Hex Bit, Socket, 3/8" Drive, Metric 8 mm (1)
Impact Socket Set mm, 3/8" Drive, 9 pc (1)
Impact Wrench Kit, 3/8" Drive, MicroLithium Cordless, 14.4V (1)
Impact Wrench, 18 V 1/2" Drive Cordless MonsterLithium (2)
Magnetic Tool Tray, 6" Diameter (4)
Oil Filter Wrench, Cartridge Style (1)
Oil Filter Wrench Strap Wrench 3-1/2–3-7/8" dia. oil filters (1)
Oil Filter Wrench Strap Wrench 4-1/8–4-7/16" dia. oil filters (1)
Oil Filter Wrench - Use for 2-7/8–3-1/4" dia. oil filters (1)
Oil Filter Pliers (1)
Pliers, 10" Groove Joint (1)
Pliers, 6" Diagonal Cutting (1)
Pliers, 6" Slip Joint (1)
Pliers, 8" Long Nose (1)
Ratchet, 1/2" Drive (1)
Ratchet, 3/8" Drive (1)
Screwdriver Set, Assorted, Phillips 7 pc (1)
Screwdriver Set, Assorted, Slotted 7 pc (1)
Socket, Shallow, 1/2" Drive, 24 mm 6 pt (1)
Tire Marker, Yellow (Box of 12) (1)
Tire Thread Depth Gauge (2)
Magnetic Bar Tool Holder, 12" Long (2)
Torque Stick - 65 ft-lb Extension ONLY (2)
Torque Wrench 1/2" Drive (30-250 ft-lb) (2)
Torque Wrench 3/8" Drive (10-100 ft-lb) (1)
Wire Brush (1)
Roll Cart, Red 5-Drawer (1)