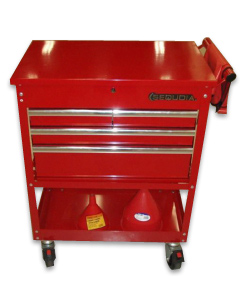 Item shown may not be actual product.
Product and price information are subject to change without notice.
---
Discontinued
TXM Basic Tool Set w/Battery Impact Wrenches and Red Cart
---
Description
This comprehensive tool kit meets the Toyota Express Maintenance Basic Maintenance tool requirements. The portable storage/work cart includes ample room for organizing and securely storing the entire tool kit.
Includes
Air chuck with gauge (1)*

Air (tire) pressure gauge (dial) (2)*

Battery post & terminal cleaner brush (1)

*

Blow nozzle for air hose (1)*

Brake pad "Go/No Go" gauge (2)**

Breaker bar, 24", 1/2" drive (1)

**

Coolant hydrometer (with long hose) (1)*

Extensions, 3/8" drive, 4-piece set (1)**

Fender cover (magnetic) (2)*

Flashlight, Ultra-Bright 21 LED (3 AAA) (2)**

Funnels - various sizes (2qt, 6qt with screen) (1 set)*

Grease gun, small, with hose (1)*

Impact sockets, 1/2" drive, metric, deep, 12-piece set: 10, 12, 13, 14, 15, 16, 17, 18, 19, 21, 22, 24 (2 sets)

*

Impact socket, 1/2" drive, standard 24mm (1)**

Impact sockets, 3/8" drive, metric, standard, 9-piece set: 8, 10, 11, 12, 13, 14, 15, 17, 19 (1 set)*

Impact sockets, 3/8" drive, metric, deep, 8-piece set: 10, 11, 12, 13, 14, 16, 17, 19 (1 set)

*

Impact wrench, 1/2" - Battery-Powered (2)*

Impact wrench, 3/8" - Battery-Powered (gun) (1)

*

Magnetic lug nut cups (4)*

Metric comb wrench set 15 pc - wrench set: 7mm - 19mm, 21mm, 22mm (1 set)*

Oil filter wrench, self-adjusting (1)

*

Oil filter wrench: 65mm (1)**

Oil filter wrench: 75mm (1)**

Oil filter wrench: 75.6mm spin on filters

Pliers set, 4 pieces (1)

**

Ratchet, 3/8" drive, flex head bent handle (1)

**

Screwdrivers, assorted 14-piece set (1 set)

*

Socket rail, 18" with 15 socket clips - 1/2" red (2 sets)*

Socket rail, 18" with 15 socket clips - 3/8" red (2 sets)*

Standard ball peen hammer, 24 ounce (1)

*

Tire marker, yellow (Box of 12) (No Warranty)

Tire tread depth gauge (2)**

Torque stick - 65 ft lb 7 1/2" extension ONLY (2)*

Torque wrench, 1/2" (50 - 250 ft lb) (2)

*

Torque wrench, 3/8"

(10 - 100 ft lb) (1)

*

Trim clip tools: pry fork and blade (1 set)**

Wheel cover remover / hammer (2)**

Wrench rails, 20 Tool 2-piece set (1 set)*

Tool cart, red, 4-drawer (1)*

Suggested Tool Placement / Organization Guide
Warranty
* - 1 Year Warranty
** - Limited Lifetime Warranty