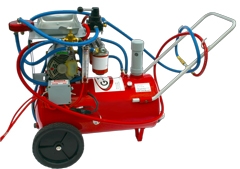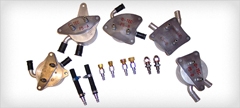 Item shown may not be actual product.
Product and price information are subject to change without notice.
---
Discontinued
Automatic Transmission Cooler System Cleaner from G-Tec
---
Description
G-Tec's Heated Automatic Transmission (A/T) Cooler System Cleaner includes a full set of Toyota/Lexus adapters and a checkable, reusable Oberg filter. The Toyota/Lexus adapters allow the G-Tec Cooler System Cleaner to clean virtually every automatic transmission cooler system used in Toyota and Lexus vehicles. The 28 micron checkable Oberg filter captures debris for technician analysis and customer review. It can be cleaned for re-use.
Features
Spin on Absorption Filters - low-cost non-bypass automotive filters are magnetically charged to trap ferrous metals
Toyota/Lexus Adapter Set - supports servicing of most A/T's including puck style coolers
Air Injection System - shoots air into the lines for 75% more cleaning capability - also simplifies clean up
Manual Reverse Valve - allows heated ATF to flow forward or backward as long as necessary in either direction to clean the cooler system fully
Auto-controlled Immersion Heater - maintains the fluid at the optimum temperature for cleaning the cooler system
1750 p.p.m. Pulsating Pump - pulsation agitates the dirty residue like a washing machine - G-Tec's cleaner pulsates at a much higher rate than other cleaning units
5 g.p.m. Flowmeter - indicates a blockage or restriction in the lines or the need to change the filter
Tool Tray - holds all the adapters onboard in a convenient and easy to reach topside carrier
Fluid Purge Valve - allows the first pint or two of very dirty fluid to be purged out which extends the life of the spin on filters
Uses up to 8 quarts OE ATF for cleaning - no other fluids or additives are required!
Includes
GTHTTCFP5 Puck Adapter
GTHTTCFP5A Puck Adapter
GTHTTCFP5B Puck Adapter
GTHTTCFP5C Puck Adapter
GTHTTCFP5D Puck Adapter
GTHTTCFD5 Non-puck Style Adapter, 15mm female threaded style lines
GTHTTCFD4 Non-puck Style Adapter, 13 mm female threaded style lines
GTHTTCFH3 Non-puck Style Adapter, hose barb style lines
GTHTTCFB2 Non-puck Style Adapter, Banjo style lines 14mm+ style lines
Warranty
13 months
Product Specifications
Tank Capacity: 10 gallons
Tank Material: All-steel / powder-coated
Motor: 1/2 hp / commercial-grade power
Pump: 1750 p.p.m.
Flow Meter: 5 g.p.m.
Wheel Size: 10" diameter