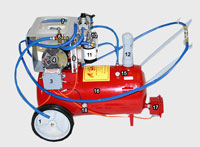 Item shown may not be actual product.
Product and price information are subject to change without notice.
---
Discontinued
Automatic Transmission Cooler System Cleaner - Basic
---
Description


The ATF Cooler Cleaner, manufactured by G-TEC, Inc., is a portable, electrically-operated tool that cleans the ATF cooler with high-pressure, heated ATF. This cleaning action melts down waxy varnish residue left by burnt ATF and purges metal particles, clutch material, and other contaminants.
Applicable for all vehicles with an in-radiator ATF cooler.
Features
Uses quick-connect fittings and color-coded hoses for easy hookup.

Requires no special fluids: Uses about 9.5 gallons of OEM ATF, which gets filtered and recirculated.

Heats ATF to a temperature of 140° to 150°F and then pumps it through the ATF cooler at high pressure (100 psi) using a pulsating action and air purging. Switching the hoses cleans the ATF cooler in the reverse direction.

Uses two magnetic non bypass spin-on filters to trap purged contaminants.

Includes a convenient built-in tool tray.
Includes
GTHNBP2 Magnetic non bypass spin-on filter (6-pack)

GTHNBP12 Magnetic non bypass spin-on filter (12-pack)

GTHTTCFFMK Flowmeter

GTHHCFMRV Manual reverse valve

GTHTTCFHM Vibration hourmeter
Warranty

One year


Product Specifications
Tank Capacity: 10 gallons
Tank Material: All-steel / powder-coated
Motor: 1/2 hp / commercial-grade power
Pump: 1,750 p.p.m.
Flow Meter: 5 g.p.m.
Wheel Size: 10" diameter