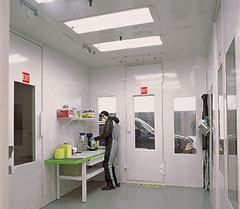 Item shown may not be actual product.
Product and price information are subject to change without notice.
---
Call 800-368-6787 for price
ULTRA Paint Mix Rooms
---
Description
Engineered for maximum energy savings and increased productivity!
Highest quality paint mixing environment
The program offers a full range of spray booths available for body shops of all sizes.
Features
Pressurized downdraft airflow for ideal ventilation
— Pressurized design eliminates dust entry from outside sources
Dual skin insulated panel construction
— Smooth fit and finish gives impressive overall appearance and minimizes areas where overspray and dust can collect
White pre-coated galvanized steel
— White coating diffuses light better than uncoated steel, reduces reflections and glare
— Smooth consistent wall finish prevents overspray buildup
— Weld-free construction prevents rusting and improves booth strength
Multiple standard sizes
External height extensions included to match spray booth height of 11'
Pressurizing blower with efficient 1/2 hp motor and balanced intake and exhaust fans
4-tube light fixture(s) with energy efficient electronic ballasts
(1) personnel access door with observation window
Built-in spill containment (no curb required)
Mix room is designed to accept fire suppression system
(3) configurations:
— Freestanding designs for separate mix room
— Attached designs and foyer designs integrate with dual-skin spray booths
Warranty
1 year parts and labor
NOTE: Call 1-800-368-6787 to arrange for an on-site consultation for Global Finishing Solutions paint mix room