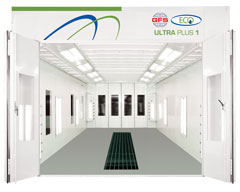 Item shown may not be actual product.
Product and price information are subject to change without notice.
---
Call 800-368-6787 for price
ECO ULTRA PLUS 1 Spray Booths
---
Description
Engineered for maximum energy savings and increased productivity!
Full range of spray booths available for body shops of all sizes
Features
Full downdraft spray booth airflow during spray and curing cycles through the patented Controlled Air Flow ceiling with angled light fixtures
— Main flow zone concentrates airflow in a protective curtain around the car
— Main flow zone effectively removes overspray
— Side flow zones circulate air away from the walls and wall lights
— Angled ceiling lights, wall lights and available corner lights eliminate shadows for better overall illumination, especially during clear coat application
Dual skin insulated panel construction
— Smooth fit and finish give impressive overall appearance and minimize areas where overspray and dust could collect
— Insulated design reduces noise inside the booth and in the surrounding shop area
— Insulated design reduces ambient heat outside booth
White pre-coated galvanized steel
— White coating diffuses light better than uncoated steel, reduces reflections and glare
— Weld-free construction prevents rusting and improves booth strength
Single- or three-row pit exhaust system or optional raised platform
— Pre-engineered pit design properly balances airflow
— Air is drawn more evenly over the vehicle and pit
Wide 10' heavy-duty, 4-wing entrance door with observation windows
— Large opening for easy entry, heavy-duty hinges, solid construction
— Side access door with observation window can be moved to accommodate different booth layouts
Twelve 6-tube inside-accessible ETL listed angled light fixtures with energy efficient electronic ballasts
Booth is designed to accept fire suppression system
AdvanceCure™ Accelerated Airflow System for faster curing in hard-to-reach areas works with solvent-based and waterborne coatings
6-tube corner light fixtures
ULTRA Recirculating Heat System
ETL Listed industrial air heater
High efficiency direct-fired system with recirculating cure mode
— Maintains consistent year-round temperatures
— Increases productivity by using a 'cure' cycle to provide faster and better finishes than air drying
— Pressurizes the booth to reduce dust entry from outside environment
Direct-drive motors
— No belts or pulleys to maintain
— More efficient performance
Monoblock exhaust and intake unit
— Exhaust and intake systems are integrated into one unit
— Matched intake and exhaust fans provide balance to the air system
Fueled by natural gas or propane (oil fuel version is optional)
Multi-stage filtration system extends booth filter life
— Fresh air is filtered before heating
— Recirculated air is filtered before reentering the booth
— Post-filters prevent overspray from reaching the fans
Exhaust duct for 15' ceiling
Key locked main control panel door to prevent non-authorized access
User-friendly, remote control panel with digital display
SmartCure™ accelerated drying system reduces cure times (available with direct-fired groups only).
Variable frequency drives
Energy Efficient Features
Lighting — electronic light ballasts reduce energy consumption
Insulated walls — reduce heat loss to outside environment
Variable frequency drives provide smooth motor start-up and significantly reduce power consumption
High efficiency turbofans provide more velocity with less effort
Warranty
1 year parts and labor
NOTE: Call 1-800-368-6787 to arrange for an on-site consultation for Global Finishing Solutions ECO ULTRA Plus 1 spray booth.

Product Specifications
Typical Internal Dimensions: 14'W x 9'H x 27'L
Lengths Available: From 24' to 81' and longer for high-production applications
Typical External Dimensions: 14'5"W x 11'H x 27'5"L