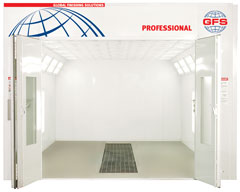 Item shown may not be actual product.
Product and price information are subject to change without notice.
---
Call 800-368-6787 for price
Closed Top Open Front Spray Booths
---
Engineered for maximum energy savings and increased productivity!
Most flexible and productive system
Pit-Style Full Downdraft
The program offers a full range of spray booths available for body shops of all sizes.
Features
Full downdraft airflow during prep, spray and curing cycle
— Designed for quick prep and spot painting of cars and parts
Single or dual configurations available. Drive-thru optional
— Drive-thru models ideal for high production shops
Dual skin insulated panel construction
— Smooth fit and finish gives impressive overall appearance and minimizes areas where overspray and dust can collect
— Quiet operation
White pre-coated galvanized steel
— White coating diffuses light better than uncoated steel, reduces reflections and glare
— Smooth consistent wall finish prevents overspray buildup
— Weld-free construction prevents rusting and improves booth strength
Standard exhaust and recirculation systems
Optional curtain walls for optimal downdraft airflow
4-tube light fixtures including energy efficient electronic lighting ballasts
ETL Listed
Designed to accept fire suppression system
Warranty
1 year parts and labor
NOTE: Call 1-800-368-6787 to arrange for an on-site consultation for Global Finishing Solutions spray booths.