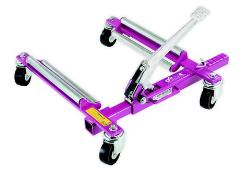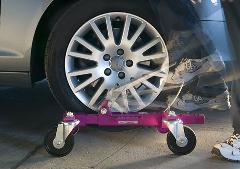 Item shown may not be actual product.
Product and price information are subject to change without notice.
---
Discontinued
GO JAK® Super Slick Jack/Dolly
---
Description
Effortlessly lift and move low profile cars with tires as wide as 20" and up to 36" tall! Mechanical leverage applied to the foot pedal progressively "squeezes" the vehicle tire between the rollers until the tire lifts smoothly off the ground. The rollers touch only the tire - no contact with the vehicle's frame or undercarriage is necessary. Its purely mechanical design eliminates the need for electric power, compressed air or slow and leaky hydraulics.
NOTE: Works with the Lexus LFA
Features
Twin rollers on each axle guide the tire smoothly up and over the axle support bar to lift wider tires

Bi-directional linear ratchet for the jack portion

5° offset pedal angle for additional foot-to-tire clearance

Low under jack clearance of only 2"
Accessory
ETWGOJ456 - Storage cart for up to four GO JAK® Super Slick Jack/Dollies
Warranty
Limited 2 year warranty covers factory defects in material and workmanship from the date of purchase (proof of purchase is required). Typically, repairs can be performed in the field. In the event a unit must be returned to the manufacturer for inspection and repair, product must be shipped freight pre-paid to the manufacturer. Repaired product return freight will be provided by the manufacturer. This warranty does not extend to products that have been abused, or put to use outside their intended purpose. This warranty does not extend to components that are expected to wear under normal operating conditions.
Product Specifications
Weight Capacity per Unit: 1,125 lbs.
Weight Capacity - 4 Units: 4,500 lbs.
Tire Diameter: Up to 36"
Tire Width: Up to 20"
Under Jack Clearance: 2"
Casters: (4) 3"
Rollers: (1) Steel
Unit Weight: 37 lbs.
Shipping Dimensions: 25"W x 26.5"D x 17"H