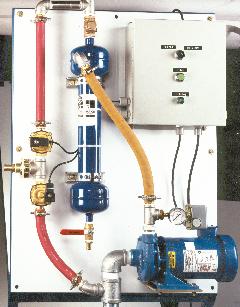 Item shown may not be actual product.
Product and price information are subject to change without notice.
---
$8,635.68
*
*log in for dealer pricing
Water Reclaim System
---
Description
This wall-hung unit works well with any Broadway car wash systems The mounting board is pre-wired and pre-plumbed for easy installation in the car wash bay area. Requires underground water trap system.
Features
The system reduces water consumption by approximately 75%, significantly lowering operating costs. Water is pumped from the last compartment of the underground settling tank through a cyclone separator to remove suspended solids.
Washes with reused water and rinses with fresh water.
NOTE: Requires underground water trap system. Contact us for blueprints. Local contractor will need to install and plumb underground holding tanks.
Warranty


Thirteen (13) month parts & labor
Product Specifications
Dimensions: 46"H x 40"W x 13"D
Electrical Service: 220/230 volt AC, 1 phase, 60 Hz, 20 amp breaker (12 amp running load)
Water: 2" suction line discharge pressure at 40 p.s.i.