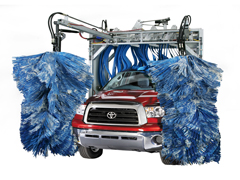 Item shown may not be actual product.
Product and price information are subject to change without notice.
---
$51,198.48
*
*log in for dealer pricing
Stationary Drive-Thru Wash
---
Description
Stationary Drive-Thru Wash System
Features
Operates with or without a conveyor.
Entrance guides align vehicle thru wash.
Set to run free, with coins or tokens.
Smooth hydraulic operation - reliable and low maintenance.
Quick and easy installation by factory techs.
Tubular steel - hot dipped galvanized frame.
Oscillating soft cloth shaker curtain provides fast, gentle scrubbing action that thoroughly removes stubborn road film, dirt and grime - removing wiper blades is not required.
Wrap-arounds - the wrap-around side pans are made from the same cloth material as the mitting curtain. The arms actually "wrap" around the entire vehicle. First, in an unfolded position, they clean the entire front end, then they gently retract, washing the sides and finally unfolding, washing the back end of the vehicle. The 82" tall wrap-arounds are high enough for most SUVs, minivans and other vehicles.
Water - the flooder arch is within the washing framework. It sprays a mixture of soap and water directly onto the pads and vehicles. Wash cycle uses 15 gallons of water, depending on speed of vehicle.
Rinse - the rinse arch removes the soap and applies a drying agent that makes the water puddle up and run off the vehicle.
Warranty
Thirteen (13) month parts & labor


Product Specifications
Compressed Air: 90 p.s.i., 5 c.f.m.
Electrical Service: (1) 10 hp motor, 30 amps, 3 phase, 208/230/460 volts
Minimum Space Required: 14' w x 17' 1" l x 10' 6"H
Plumbing: 1" at 40 p.s.i. usage rate 22 g.p.m. standard floor drain