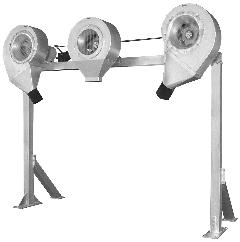 Item shown may not be actual product.
Product and price information are subject to change without notice.
---
$18,895.68
*
*log in for dealer pricing
Car Drier (45 hp)
---

Description
Car Drier - 45 hp touchless drier

Features
Energy lean blowers use only a pinch of power.
Tubular steel frame, hot-dipped galvanizing over every inch.
Each column has its own fan and motor location as close as possible to the sock openings. The top has (2) motors to equalize the distance and drying power of the airflow.
Aluminum fans reach operating almost immediately - minimizing expensive electrical surges.
Wind socks maintain a desert-like drying wind. When the vehicle comes in to contact with the wind socks, they caress and fold over all obstacles.
Maintenance free.
Noise level down to 85 dB with optional noise reduction system.
Optional motor starter panel available.

Accessories
BREB20SRS Noise Reduction System
BREB30SRS Noise Reduction System
BREB20-1 Motor Starter Panel
BREB30-1 Motor Starter Panel

Warranty


Thirteen (13) month parts & labor

Product Specifications
Electrical Service: (4) 7-1/2 hp motors, 100 amps, 3 phase, 208/230/460 volts
Minimum Space Required: 13' 6 "W x 7' l x 10' 6"H