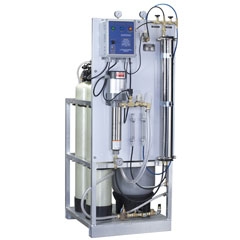 Item shown may not be actual product.
Product and price information are subject to change without notice.
---
$10,747.08
*
*log in for dealer pricing
Reverse Osmosis Spot-Free Rinse System
---
Description
Reverse Osmosis Spot-Free Rinse System
Features
Completely rinse with spot-free water. No wiping is necessary.
Capable of producing 1,800 gallons of spot-free mineral water per day.
Large capacity 500 gallon or (2) 300 gallon storage tanks.
All components have been designed to protect and prolong the life of the equipment.
1 hp electric motor with stainless steel pump.
Built-in water softening system reduces water impurities.
Expandable into larger system if needed.

Warranty



Thirteen (13) month parts & labor
Product Specifications
Minimum Space Required: 15' L x 7' H x 5' W
Electrical Service: 120 volt, (2) 20 amp circuits, (4) total plug-ins
Plumbing: 3/4" at 40 p.s.i.