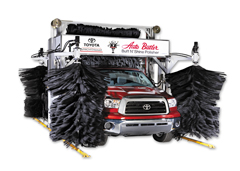 Item shown may not be actual product.
Product and price information are subject to change without notice.
---
$53,767.80
*
*log in for dealer pricing
Automatic Car Polisher
---
Description
The automatic car polisher produces a consistent, high-quality polish on each vehicle. Car polishing is an ideal way to improve customer satisfaction and loyalty. Complete training and marketing tips are available to establish your detail center. The hydraulic system provides easy operation and minimum maintenance - allows fingertip adjustments for each polishing pad.
Features
Buffs to a protective floss without streaks, swirls, or burn marks
Patented hydraulic-powered, air-controlled, (5) cloth-brush operation - as gentle as a hand's touch
Low maintenance aluminum frame
Lustre-Renu polish, specially formulated for the care of used car surfaces, cleans and smooths the painted surface and leaves a tough, high-gloss finish
Premier paint protector for new cars puts a chemically bonded layer of super-hard protection between a vehicle and the elements
One operator can turn over (25) perfectly polished vehicles per day
Installs as a drive-in/back-out or as a drive-thru
Warranty
Thirteen (13) month parts & labor
Product Specifications
Electrical Service: 15 hp motor, 60 amp, 3 phase, 208/230 or 460 volt
Compressed Air: Minimum 80 p.s.i., 4 c.f.m.