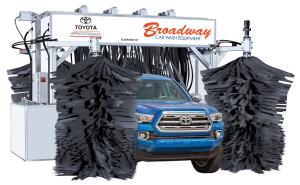 Item shown may not be actual product.
Product and price information are subject to change without notice.
---
$69,871.68
*
*log in for dealer pricing
Rollover Cloth Car Wash without Blower, w/Retract Bar
---
Description
Includes retract bar to pull the curtains out of the way - allowing the operator to see when driving thru
Features
Hydraulic system provides easy operation and minimum maintenance. Allows fingertip adjustments for each washing pad.
Total vehicle coverage - double cycle for cars, SUVs and minivans, and large vehicles up to 84" high.
Oscillating soft cloth shaker curtain provides fast, gentle scrubbing action that thoroughly removes stubborn road film, dirt and grime - removing wiper blades is not required.
Quick and easy installation by factory techs.
Washes with only 24 gallons of fresh water per car - much less than hand washing.
Requires no harsh chemicals, just biodegradable soap and water (See Service Tips).
Unit stops and arms open automatically if vehicle leaves before wash is completed.
Low-maintenance aluminum frame.
Warranty
Thirteen (13) month parts & labor
Product Specifications
Compressed Air: 90 p.s.i., 5 c.f.m.
Electrical Service: (1) 15 hp motor, 60 amps, 3 phase, 208/230/460 volts
Minimum Space Required: 13' w x 28' 1" l x 10' 6"H
Plumbing: 1" at 40 p.s.i. usage rate 22 g.p.m. standard floor drain