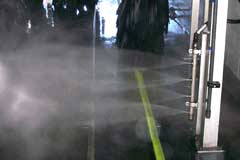 Item shown may not be actual product.
Product and price information are subject to change without notice.
---
$10,687.68
*
*log in for dealer pricing
High Pressure Side Blaster
---
Description
The High Pressure Side Blasters are an accessory to the Rollover Cloth Wash that increases the cleaning ability of the wash. The Side Blasters focus on the lower side panels and wheels/rims of the vehicle, cleaning road grime and debris that accumulate in these hard to clean areas.
Features
A separate 15 hp electric motor powers a 15 hp water pump, creating over 600 psi of cleaning power.
Warranty


Thirteen (13) month parts & labor
Product Specifications
Electrical Service: 15 hp, 60 amps, 3 phase, 208/230 or 480 volt
Plumbing: 1" at 40 psi / usage rate 22 gpm
Drain Requirements: Standard Floor Drain