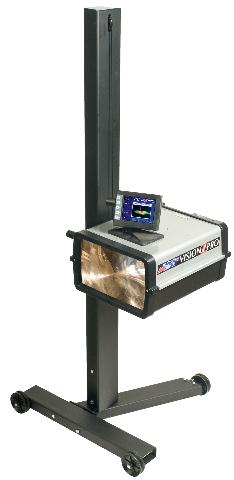 Item shown may not be actual product.
Product and price information are subject to change without notice.
---
$4,741.20
*
*log in for dealer pricing
Vision II Pro Image Processing Headlamp Aimer
---
Description
Image Processing Headlamp Aimer is the latest example of American Aimers commitment to deliver the most advanced aiming technology to the automotive aftermarket. Built on the proven concept of the Vision I Imaging Headlamp Aimer, we developed a tool for today's VOL/VOR/LOW/HIGH/FOG headlight aim patterns.
The Vision II Pro's smart design makes it expandable for headlight algorithms of the future and for new hardware and software upgrades as they become available. Engineered with speed, accuracy and quality in mind, the Vision II Pro will be a profitable investment for years to come
Features
Color LCD Display - Bright detailed imagesand easy to read text
Aim Lamps Screen - Allows operator to select the style of headlight to be aimed VOL/VOR/LOW/HIGH/FOG
Built in Language Screen - Choose between English, Spanish, or French
Automatic Level - No need to rellevel the head when changing bays
Automatic Positioning - Automatically compensates for vehicle misalignment
System Calibration Check - Performs a diagnostics check to verify the aimer calibration is in specification
Expandable for future upgrades
Accessories
AMA310020 Thermal Printer
AMA310015 Dust Cover
Warranty
One (1) year
Product Specifications
Carton 1-Aim Head Dimensions (LxWxH): 23" x 21" x 20"
Carton 2-Base Dimensions (LxWxH): 36" x 9" x 5"
Carton 3-Mast Dimensions (LxWxH): 67" x 6" x 5"
Aiming Height Max: 55"
Aiming Height Min.: 11"
Total Shipping weight: 97 lbs.