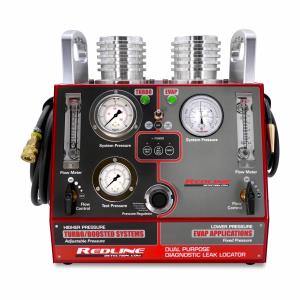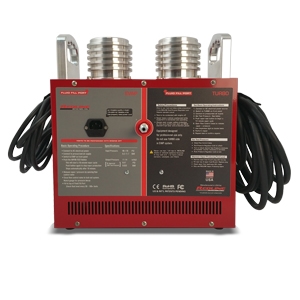 Item shown may not be actual product.
Product and price information are subject to change without notice.
---
$4,335.12
*
*log in for dealer pricing
Dual Purpose Diagnostic Leak Locator
---
Description
For the first time ever, technicians now have the ability to do ALL types of diagnostic leak detection with a single machine: Both low pressure for traditional vehicle EVAP and general repair; and variable high pressure for turbo, diesel, and heavy duty testing. Use either visible vapor or air only. All with ONE innovative, state-of-the-art piece of equipment.
This new technology gives technicians the ability to switch from low pressure to high pressure, to have access to the full range of testing pressures for different applications, with literally the flip of a switch.
Made for ease-of use, this new all-in-one
unit is engineered to quickly test the integrity of EVAP systems, intakes, turbo, boosted, low and high pressure systems, all without dyes or contaminants so it's safe for the vehicle, safe for the technician and safe for the environment. Variable pressure, variable flow replicate the full load of a running vehicle and allow the technician to adjust flow as needed to find minuscule faults in every type of vehicle, even heavy duty trucks. This technology dramatically increases shop efficiency by giving the ability to switch from low pressure to high pressure, with the flip of a switch.
Applications:
Quickly test the integrity of:

Complete fuel vapor recovery (EVAP) system
Complete exhaust system (diesel or gasoline)
Complete intake system (gasoline, alternative fuel, diesel)
Turbo and turbo housings
Charge air coolers
All boosted engines
Diesel particulate filter systems
Diesel emission system
All without dyes or contaminants so it's safe for the vehicle, safe for the technician and safe for the environment
Accessories
RLD970430 Remote Control
RLD960039 Vapor Producing Fluid
Warranty
Smoke Chamber - Lifetime
Dual Leak Locator - One year
Product Specifications
Power Supply: 110-230V AC
Pressure Supply: Compressed Air
Output Pressure (EVAP) : 11 - 14 in/H2O .47 PSI (.032 BAR)
Output Pressure (TURBO): Up to 20+ PSI (Up to 1.4+ BAR)
Operating Temperature: 0°F to 140°F (-17°C to 60°C)
Operating Humidity: No Restrictions
Operating Altitude: No Restrictions
Operating Modes: Smoke Cycle / Air Only Cycle
Housing Material: Steel
Smoke Chamber Material: Billet Aluminum
Smoke Chamber Assembly: Bolted
Dimensions: 13.5" x 9" x 15" (34.29cm x 23cm x 38cm)
Weight: 27 lbs. (12.25 kg)