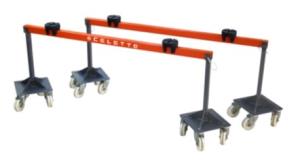 Item shown may not be actual product.
Product and price information are subject to change without notice.
---
$60,566.40
*
*log in for dealer pricing
RHONE L - 4.2T Bench With Sevenne Pulling Unit
---
Item Number:
CELR18L42213
Supplier:
CELETTE INC
Toyota Certified Collision Center Program members receive an additional discount on this item. Call the ADE Program at 800-368-6787 and ask to speak to the Collision Support Specialist for details.
Description
The 16'5"ft long Drive-On Rhone L Lift Bench is specially designed to repair larger vehicles. This length enable you to complete simultaneous repairs at the front and at the rear of the vehicle as well as double entry allowing to drive on or back on the bench. This bench is supplied with 2 Axle Stands for rapid vehicle loading and a hydraulic tilting system.
Warranty
12/24 Months
Product Specifications
Dimension (inches): 176 x 47 x 16
Weight (lbs) : 5568.20